...for the Military
UK Gear's training shoes were originally designed in association with the Royal Army Physical Training Corps (RAPTC). These elite fitness professionals were closely involved in the development and tested our products in some of the most inhospitable conditions on Earth. Only when approved by the Military do we consider our products... Built to survive.
The Gumpathon
---

"We have run for 63 days in our PT-1000's and they feel as though they could have done 63 more! I don't think a normal running shoe would have survived the terrain and the hammering they were given by the team but we all felt safe in the knowledge that we were in trainers that were perfect for this challenge."

CSgt Damian Todd - Royal Marines.




US AND UK ARMED FORCES UNITE TO TRY AND RAISE £1 MILLION/ $1.5 MILLION FOR CHARITIES FOR INJURED SERVICEMEN AND WOMEN

On November 11th 2010, six very special men from Britain's Royal Marines and the US Marine Corps will arrive in Santa Monica having completed an epic coast to coast run across America inspired by the film Forrest Gump, to raise funds for injured service men and women on both sides of the Atlantic. The team will have run 3,530 miles across the US covering 16 States, 4 time zones and each runner ran approximately 20 miles a day each, for 8 weeks.

The going has been tough as the runners have suffered a number of setbacks along the route, including a torn Achilles which meant that Royal Marine Jamie Jobson was out of action for over a week. This put a huge pressure on the other runners to make up his mileage. They have dealt with punishing climbs through forbidding mountain ranges, high temperatures and blistering heat from the tarmac, the bleak and empty wilderness of Arizona and the hostile local dogs who regularly chased the runners.

However, the team have been inspired to keep running by triple amputee – Mark Ormrod who was left with serious permanent disability following his tour in Afghanistan. Mark became the first triple amputee of the war in Afghanistan and has recently published a book about his experiences, 'Man Down'₁. Mark was the inspiration for this project and he has proved an incredible force in terms of motivating the runners to keep going.

The Gumpathon are raising raise money for three service charities, In the UK - The Royal Marine Charitable Trust Fund and Help for Heroes and The Injured Marine Semper Fi Fund in The US. The team aim to raise a $1.5million for each of the charities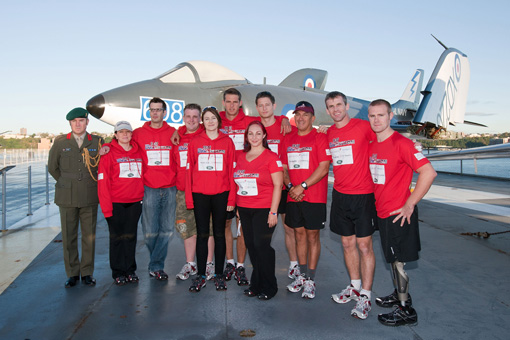 The Gumpathon Team

---

UK GEAR IS PROUD TO BE THE OFFICIAL FOOTWEAR SPONSOR OF THE GUMPATHON.


6 MEN... 8 WEEKS... 3,530 MILES ACROSS AMERICA

Running coast to coast to raise money for charities supporting injured servicemen on both sides of the Atlantic.
About The Gumpathon
Inspired by Forest Gump's epic run across America, The Gumpathon is the brain-child of Colour Sergeant Damian Todd who decided to go ahead with the idea after a close friend was left severely disabled following a tour in Afganistan.
Whilst the media covers those who sadly lose their lives in the line of duty less has been said about those who are graphically wounded. The problems facing those who return with severe injury are great and the simple things that we take for granted such as walking, running, going out with your friends are changed forever.
All money raised from the Gumpathon will go towards helping these people through the work of three charities: Help for Heroes (H4H), the Royal Marines Charitable Trust Fund and the US Injured Marine Semper Fi Fund. All three raise funds to support wounded and ill members of the Armed Forces, and their families, throughout their recovery period.
UK Gear is honoured to be joining global brands such as Virgin Atlantic, Panasonic and Land Rover in support of the event. The launch will take place in Central Park on 10th September, and has attracted phenomenal national and international media from Sky News, BBC and The Sun newspaper, to name but a few. The Team will also have a full time PR with them on the journey who will be co-ordinating all media interviews and press events.
The Route
The Gumpathon route stretches from New York to LA, it runs across 3,530 miles crosses three deserts, four time zones and ten mountain ranges which climb to over 10,000 feet.

The Runners
CSgt Damian Todd RM
Damian describes himself as 'a thoroughbred adrenaline junkie and born sprinter with a natural propensity to avoid distance running'. He has been in the Royal Marines for 20 years and was a British ranked decathlete and was once a member of the British Bobsleigh Team. He also runs the only official MMA (Mixed Martial Arts) club in the UK Armed Forces. The Gumpathon is Damian's idea and, he accepts its a crazy one, but says that he would be a hypocrite to expect anyone else to run if he wasn't prepared to do it himself.
Mark Ormrod
Mark is a Marine of 8 years standing. Born in the West Country he describes himself as stubborn with a love of Chinese take-away. During a tour in Afghanistan in 2007 Mark was severely injured losing both legs and his right arm. Since then his courage and determination to get on with life has provided an inspiration to many others, including all those involved in the Gumpathon. He has written a book about his experiences called Man Down which was published in 2009 and is now attached to the new Hasler Company which will provide bespoke support for injured Marines.
Master Gunnery Sergeant Charles "Chunks" Padilla USMC
Master Gunnery Sergeant Charles "Chunks" Padilla Chunks describes himself as a Marine that's always looking for new extreme challenges. He has been in the United States Marine Corps for over 28 years. He has served with various United States Marine Corps Reconnaissance units in the last 22 years. He served with the British Royal Marine Mountain Leader Course from 2001 to 2003. He's a graduate of the Royal Marine All-Arms Commando Course in 2002. He's very proud of being a U.S Marine and a British Royal Marine Commando.
Marine Jamie Jobson
Jamie is the youngest runner at only 24. He has been a Marine for three years and completed a tour of Afghanistan in 2008. He is an all-action Geordie enjoying diving, surfing, rock climbing and, thankfully, running.
Cpl Lloyd Fenner RM
Lloyd is 29 and originally from Grimsby. He joined the Marines in 2003 and has completed a tour in Iraq and two in Afghanistan with both 45 Commando and the Royal Marines Armoured Support Company. He is obsessed with sport of all kinds and is a passionate Manchester United fan (but we forgive him for this). He keeps his own fitness up playing football and running regularly. He describes his career highlight as accepting The Sun True Grit Award on behalf of his unit.
SSgt James Mazzoni-Dalton Army Physical Training Corps
Jim is a black belt 4th Dan in Kyushindo Karate and ran a Karate club in Hampshire for 3 years before joining the British Army. Jim served with the 3rd Battalion The Parachute Regiment for 6 years from 1998 – 2004. In May 2004 Jim passed the Army Physical Training Corps Selection which completed his transfer into the APTC. Jim is now serving as the Unit Army Physical Training Corps Instructor at 29 Commando Regiment Royal Artillery based in Plymouth. His best Marathon time is 3 hours and 1 minute and he ran the Sahara Desert Marathon in 2002. He also completed the All Arms Commando Course in 2007 at the age of 32.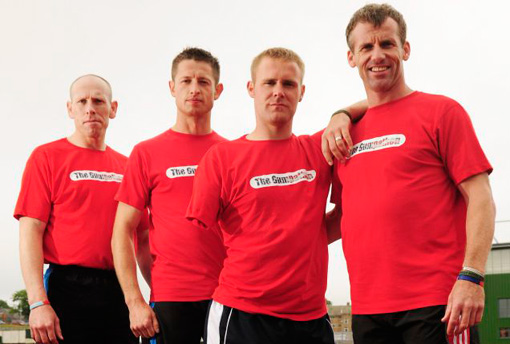 For more information, updates and to make a donation, go to The Gumpathon website.
Follow The Gumpathon on twitter and win a pair of PT-1000s!
Become a Fan of UK Gear and The Gumpathon on Facebook.
---