...for the Military
UK Gear's training shoes were originally designed in association with the Royal Army Physical Training Corps (RAPTC). These elite fitness professionals were closely involved in the development and tested our products in some of the most inhospitable conditions on Earth. Only when approved by the Military do we consider our products... Built to survive.
PARAS' 10 Endurance Race
---
PARAS' 10 - The Ultimate 10-Mile Endurance Race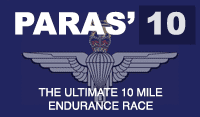 Now in its fourth year, the PARAS' 10 event is well established as one of the UK's 'must do' endurance challenges, as indicated by the fact that over 5,000 runners and 'tabbers' have attempted it over the last 3 years.
Founded by WO1 JJ Wilson, the PARA'S 10 was hosted by The Parachute Regiment in Aldershot between 1982 - 1993. Since the Paras left Aldershot in 1993, this legendary event was dormant until it was revived by Major Sam McGrath in 2008, and the event is now run by Pegasus Company; the Parachute Regiment's own training and selection wing.
The Race:
The Parachute Regiment challenges you to attempt the 10 Mile 'P' Company Cross Country Route; a multi-terrain endurance route, whilst carrying a bergen (rucksack) weighing 35lb (excluding food and water) and wearing long trousers with 'military style' boots. Competitors' rucksacks are weighed before and after the race by race officials. The P Company Challenge is open to individuals and teams. As a guide, the Paratroopers Company Selection cut off time is 1hr 50 minutes.
---
Civilian Runner Takes On The P Company PARAS' 10 Challenge!

Race Report by Chris 'Bones' Holmes



It was little over six weeks ago that I was convinced by my friends at Carp Talk Magazine to enter the PARAS' 10 Endurance Challenge, in which they told me it would just be a 'long walk in the countryside with friends, carrying a 35lb rucksack'. For me, that sounded doable. However, it was only after I had agreed to it, that they told me the truth! In reality, I was to face one of the toughest, most enduring 10-mile races in the country; 10 miles. Full pack. And I had to complete the race in army style boots. The panic started to set in!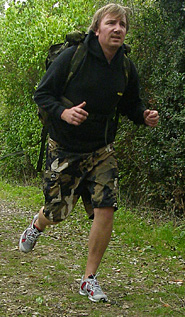 This was the first time that I had trained for any event of this kind. I joined my local gym, purchased a pair of UK Gear's PT-1000 Road and Trail Running Shoes, and I was off. I trained hard for the 6 six weeks I had left before race day, running day and night and ensuring that each time I ran, I carried weights. The support and durability that I received from my PT-1000 running shoes was immense and I don't think I could have trained and ran as far as I did with out them.

My team, 'Team Carp Talk' consisted of Rob Hughes, Simon Crow, Neil Rivers, Micky Clifford, Richard Stangroom, and myself. On the morning of the 11th September, the team arrived at Catterick Garrison, North Yorkshire, to find we had to park 1-mile away from the starting line, meaning we had to hike a mile just to reach the start line. This was a great warm up for the team however and we were rearing to go!

The team took their place on the starting line amongst the other runners and we waited for BBC's Matt Baker to fire the starting gun. My heart was pounding but I had come this far and I was going to give it my best!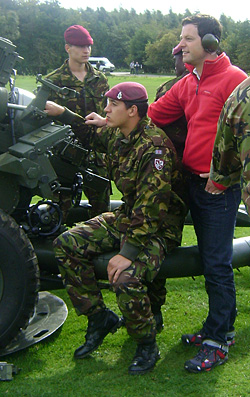 The first mile of the race started off well, but soon the steep hills started to get the better of us, so we decided to split off from one another and run our own race. The steep hills during the first 2-miles of the race made my stomach churn and I remember thinking to myself 'What the hell have I done?' By about half way up the second hill, the burning in my calf and thighs was incredible. But I found that by digging deep in those first few miles, I managed to settle into a good rhythm, which made it a little easier. A sign that read 'Pain is merely weakness leaving the body' made me smile and push that little bit harder. And standing along the route from start to finish were the guys from the Parachute Regiment clapping and shouting " Come on son, dig deep!", "You can do it push push push!" This was a phenomenal help to the runners, keeping the motivation going and making us push on.

It was not long after I passed the 5-mile mark in the trees and around the lake that things seemed to get a little better in terms of the pain. In the fact, I had passed the half-way point and on my way to the finish line. The track twisted and turned until it opened up on to a long stretch of concrete road with a nice downward gradient. But this did not last for long and soon I was back to climbing another steep and painful hill. The next part of the route allowed me to run at a steady pace with nice light hills for a change, and followed by some more down hill gradients which came with relief.

Miles 6 and 7 were a bit of a rest compared to the 8th mile! As I approached the 8-mile mark, there in front of me was THE hill of all hills - a steep gradient of nothing but rock and soil. I heard my legs give out a little whimper as I approached 'No no no no!' they were saying to me. At this point I had managed to catch up with team mate Simon Crow, who was suffering with a hip injury. We met at the bottom of the hill and tackled it together. Half way up, I was starting to really struggle and if Simon had not have been there, I might have stopped. With Simon's support and the guys from the Parachute Regiment telling me to "Dig deep and keep going" from the side of the route, I pushed up and over and ran on into mile-9, but naively thinking the worst was over.

I turned a corner and to my horror was ANOTHER steep, rocky, monster of a hill. It actually brought tears to my eyes, but once again the Paras were there telling me what I needed to hear "GET UP THAT HILL SON! LAST MILE! COME ON YOU CAN DO IT" and do it I did, right to the top and without stopping. I knew the finish line was getting closer and closer, and after running along a nice long strait, the finish line came into view - with rows and rows of people clapping and cheering. I used my last ounce of energy and ran for the finish line!

A soldier gave me a medal at the finish and Matt Baker and UK Gear representative, WO1 Mark Crisp shook my hand and congratulated me, along with all of the runners that made it to the finish. I walked to have my bag weighed and was greeted by another soldier who shook my hand and congratulated me. The soldier weighed my pack and said "39lb 14oz. You are over the weight by 5lb mate!" He laughed and congratulated me once again.

I placed 4th in the team, with a time of 2 hours 10 minutes. I was over the moon! My hat goes of to Micky from the team who managed to complete the course in 1 hour 30 minutes.

The organisation of the event was very professional and I felt supported from start to finish. Role on next year, Sub 2 hours? I think so!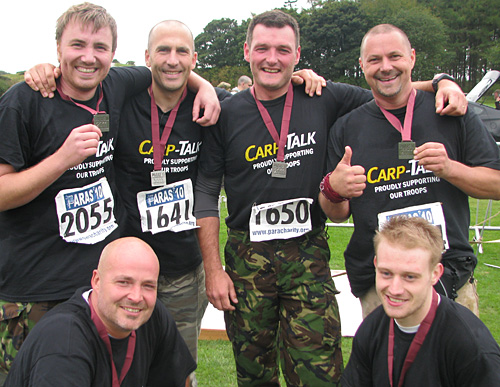 Chris 'Bones' Holmes and his team – 'Team Carp Talk' took part in the PARAS' 10 event to raise money for the Parachute Regiment and collectively they have raised almost £4,000. To support the team in their fund-raising efforts, please visit their BMYCHARITY page.

Links: http://www.carptalk-online.co.uk/

---