...for the Military
UK Gear's training shoes were originally designed in association with the Royal Army Physical Training Corps (RAPTC). These elite fitness professionals were closely involved in the development and tested our products in some of the most inhospitable conditions on Earth. Only when approved by the Military do we consider our products... Built to survive.
Al Andalus Ultra Trail (AAUT)
---

Al Andalus Ultra Trail 2011
- Extreme Challenges from Team Axarsport
UK Gear is proud to support the Al Andalus Ultra Trail (AAUT); a 5-day, 220km ultra marathon event and is known for being, tough, scenic, hot and of course a lot of fun. Launched in 2009, the AAUT is also a fantastic way for runners to make the step from road marathon to extreme multi stage racing. Competitors and teams from all over the world travel to Spain each year to take part in the race.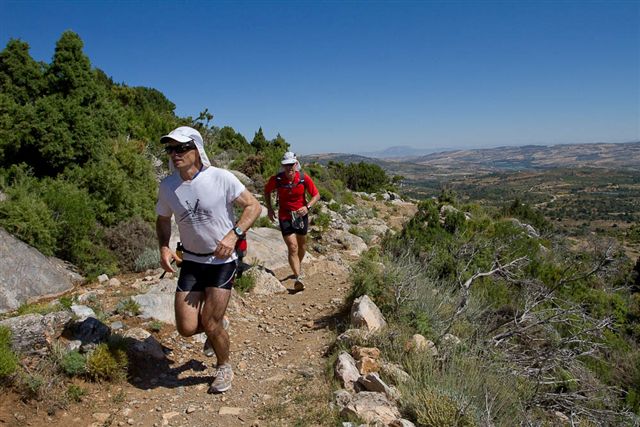 The Al Andalus Ultra Trail host town is Loja and where the 2011 race will start and finish. Loja (population 20,000) is known as the 'City of Water' because of its endless natural springs and fountains, (over 100 registered in the area ) one of the most famous being the 25 Jets Fountain.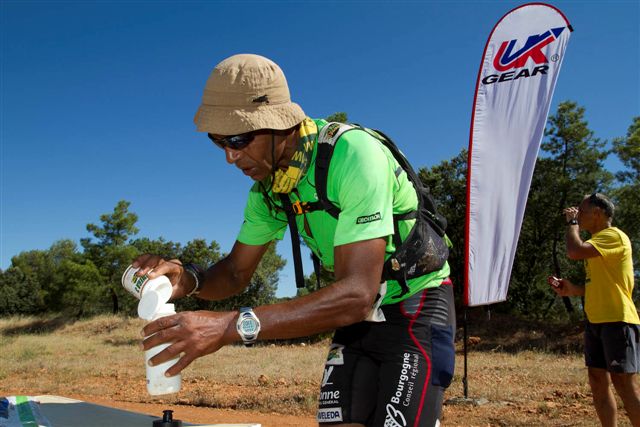 The demanding route of the AAUT is over hostile, mountainous terrain and finishes each day at a campsite or close to a picturesque Andalusian village. The AAUT race is broken up into five stages:
Stage 1 : Loja to Alhama de Granada, 37km.
The start will be from the Manzanil Hotel with police escort until you pass the Font Natura factory (our water sponsor's plant). This is a tarmac road which soon becomes dirt and rock as you climb. It is a hard ascent through desert landscape and the climb takes you to over 1420m. It will be very hot and there is no shade apart from at the various check points. Gradually descending tracks to Alhama de Granada will be tough on the legs but the finish will be at a Municipal Sports Centre where there is a beautiful swimming pool and relaxing massage available.
Stage 2 : Alhama de Granada to Jatar, 45km.
The stage begins at the Sports Centre. You pass through the town market area and descend into Alhama's spectacular gorge. From here, you travel through the full length of the gorge and then continue along sections of the GR7 before heading into the Sierra Almijara. This tough mountain stage includes a very beautiful, single track section between Jatar and CP3 and from here you begin to descend via the forest tracks, and then begin some tough final climbs into Jatar. The stage finish is at the El Nacimiento campsite on the edge of town.
Stage 3 : Jatar to Jayena, 43km.
The third stage begins at the campsite and takes the scenic, tarmac road out to Lake Bermejales and on towards Fornes. Instead of entering Fornes you follow tracks via the Resinera and a steep dirt road climb to a forest airstrip. From there it is mountain tracks all the way through some incredibly beautiful scenery. You rejoin the GR7 and follow it towards Jayena. About 4km before the village you enter another section of single track which takes you to the finish at the El Bacal campsite.
Stage 4 : Jayena to Santa Cruz del Comercio, 60km.
This is classed as the 'longest day' of the five day race. From Bacal you follow single track alongside the River Turillas to the edge of Jayena and then turn left to begin a hard climb towards the forest airstrip. Near the airstrip you take the right single track to Fornes, and then on to Lake Bermejales. Here you will take the lakeside track to Bermejales via the bridge and then via a long ascent to Agron Tower. More tracks lead to the village of Cacin, past poplar groves and then a big climb to Pocapaja with more tracks, including a long descent, through a beautiful olive grove track. A further descent into Santa Cruz del Comercio and the finish in the plaza. Campsite is El Merendera.
Stage 5 : Santa Cruz del Comercio to Loja, 38km.
The final stage begins with a long track ascent followed by 2km of road. From here a descent takes you to Pilas Dedil and onto a new mountain trail which takes you via marble quarries before a hard descent into Salar. From here, undulating tracks through olive groves lead to a short tunnel under the autovia and the final 2km surfaced road to Hotel Manzanil will take you to the finish.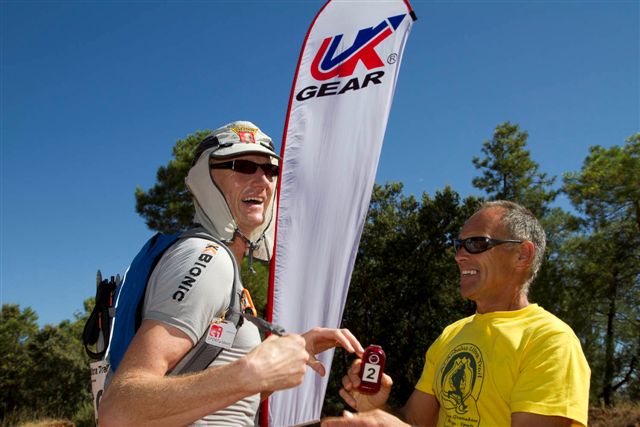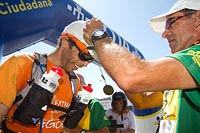 "A fantastic ultra full of interesting and panoramic challenges. From a warm sun, soothing camp site, local Spanish cuisine, the undulating Andalus mountain course, and of course the awesome atmosphere created by the runners and race organizers. Not to forget mentioning the sympathetic Coventry research team who were there to lend an open ear at the end of a long running day. A well-established and organized ultra that caters to an international field, provides a friendly challenge to those wishing to attempt their first ultra or those wishing to compete. "
Ricardo Costa – 2010 Competitor.
Team Axarsport S.L.
The AAUT is brought to you by Team AxarSport S.L. Team Axarsport is an international sports training and tourism company based in the Province of Granada, deep in the heart of Andalucia, Spain. In operation since 2002, the company specializes in multiple aspects of Trail, Mountain and Ultra Running. These include: Ultra Marathon race development, marketing, and promotion; training athletes in extreme weather ultra-running and stage racing; global product testing, design, review, and online retail sales, which include international companies such as Original Mountain Marathon, Eletewater, Formthotics and GoMotion.

Team Axarsport S.L. is Paul Bateson, Barbara Price, Eric Maroldo, and Michelle Cutler. Specialist consultants include Jacob Juul Hastrup and Mark Woolley.
Official website: http://www.alandalus-ut.com/
Photo's: James Goldsmith
---
SURin English
The Newspaper for Southern Spain
2011-07-25

'Brits take top three places in long distance Al Andalus Ultra Trail'.
Running couple triumph in the 220 kilometre run through the mountains around Loja in Granada province
by Ricky Leach.
Last week's Al Andalus Ultra Trail multi-stage endurance running event through the country- side and hills of Andalucía, saw British runners take the top three placings.
Riel Carol, 36, from London, took first place in the race, completing the gruelling five day course in 19 hours and 15 minutes, while his girlfriend, Helen Taranowski took first place in the Women's race and third place overall. Richard Webster, another Briton, took second place, coming in overall two and a half hours behind the winner and around 15 minutes before third place runner Helen.

Speaking to SUR in English from his home in the UK after the event, Riel said that although he and Helen had prepared for the heat with some special training, they both felt it was not as hot in Loja as they had been expecting. Accustomed to running in British weather conditions, the pair undertook some heat training at St. Mary's University in Twicken- ham, where they ran on treadmills for four to five hours in a specially constructed heat chamber. He said this gave him some confidence about facing the conditions in Loja and as he set off for the race, his biggest hope was that he could finish within the top five. What the training had not prepared them for was the terrain that the Ultra Trail offered them. The first day of running, the course of the Ultra Trail climbed 1,000 metres from start to finish.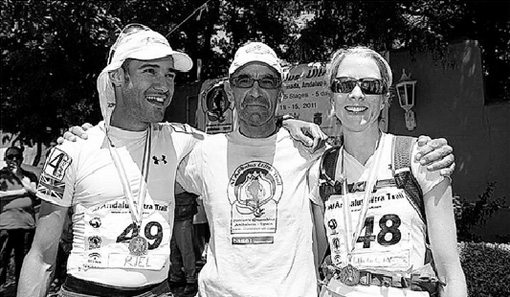 Riel's strategy for each day's racing was just to set his own pace and just see what happened. Win- ning the first and second stages he said he then began to think "If I do nothing stupid, I might actually win this race". In the end, he won each stage of the five day race and he said he enjoyed the experience much more than he had anticipated. He said he really appreciated the organisation and planning that went into the course and especially enjoyed finishing each section near a town so that he could enjoy a beer and local food with the other athletes and racer organisers.

He said "working in London in I.T., I spend most of my day sitting down so I enjoy running and often run up to 130 miles a week, finding time before and after work to
run". Riel's girlfriend, Helen Taranowski came first in the Women's race at the Ultra Trail and third place overall. She said she was really pleased with her performance as before the race she would have been happy to have been in the top ten. Helen started running ten years ago doing casual jogging to improve her fitness but she began training for marathon events five or six years ago. It is only in the last year that she has been taking part in long distance running.

Helen said "The Ultra Trail was in an area that I have always wanted to visit and I really enjoyed spending the evenings in the villages around Loja. Everyone was really friendly and the organisation of the race was excellent".
---