...for the Military
UK Gear's training shoes were originally designed in association with the Royal Army Physical Training Corps (RAPTC). These elite fitness professionals were closely involved in the development and tested our products in some of the most inhospitable conditions on Earth. Only when approved by the Military do we consider our products... Built to survive.
Andrew Murray, Scottish Doctor and Ultra Runner
---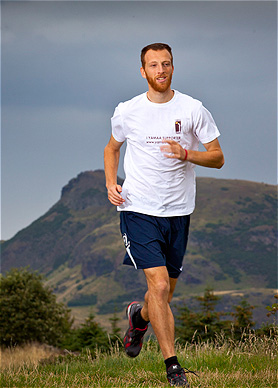 Andrew has been running for 5 years. During this time he has enjoyed racing in some of the most spectacular locations in the world.
Results include first overall in The Sahara Race, The Gobi Challenge, The 6633ultra (120 mile version) and The Scottish Ultra. Others include 4th North Pole marathon, 5th New Zealand 24 hr Race, and 16th in the Everest Marathon, his first race. He recognises the importance of taking care of his feet, and uses injinji socks, and PT-1000's shoes, by UK Gear, that are" the most dynamic and hard wearing shoe out there".
Andrew this year is running the Indo Ultra, then taking on the scotland2sahara challenge, a 3000 mile epic from John o groat's to the Moroccan sahara desert. The website address is www.scotland2sahara.com and his just giving page is www.justgiving.com/Scotland2Sahara. He is raising money for the Yamaa Trust for whom he is the medical advisor. Please feel free to donate by following the just giving link.

Andrew is also the director of Marathon Medical Services. As a runner himself, he knows how important it is to receive informed, sound medical advice. He has worked at races all round the world, with a recent favourite being the Al Andalus Ultra Trail. He is also part of a research team looking into nutrition in ultramarathon, and injuries in ultramarathon, and is a member of the International Marathon Medical Directors Association.

---
Article from Metro.

Record breaker 'jubilant' after running from Scotland to Sahara in 78 days.
Record-breaking doctor Andrew Murray has finished the equivalent of more than 100 marathons by running from Scotland to the Sahara in less than three months.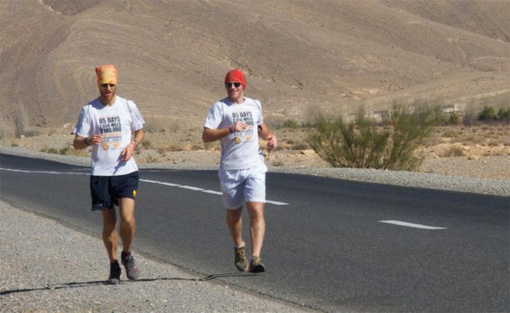 Dr Andrew Murray, left, crosses the Atlas mountains with Donnie Campbell, who joined him for part of the run (Pic: Richard Else).
Dr Murray arrived in Mor­occo after running the 4,262km (2,664 miles) from John O'Groats in just 78 days, ending his journey on Monday in temper­atures of 35C (95F). Now he faces the biggest step of all – he's getting married next month.
Speaking to Metro as he finished the run, he said: "It's just a feeling of jubil­ation. Everything has been so sore but it is so awesome that it's well worth it."
He immediately turned his mind to his wedding to fiancée Jennie Reeves, 31. "I'm going to sit down, have a beer and give Jennie a call. She has already banned running from the honeymoon," he said. "I must admit Jennie has done the bulk of the work for the wedding. I've helped as much as I can but the internet signal is not that great out here."
He described the run as a "fantastic journey" but admitted it had been "ridiculously hard". The 30-year-old locum doctor, from Edinburgh, set off in November hoping to reach the desert within 85 days. He spent Christmas Day running 38 miles through northern Spain and by doing at least 54km (34 miles) a day and not taking a day's rest, he managed to finish with a week to spare.
The feat was not an official record-breaking attempt – the current Guinness world record for consecutive marathons is 52. But his achievement is believed to be a record for consecutive ultra marathons – those that are more than the standard distance of 26 miles.
He hopes to raise £100,000 for Mongolian charity Yamaa Trust, which aims to eradicate poverty from the south Gobi region of the country.
---
Article from the Scottish Sun.
The ultimate marathon man

DAREDEVIL Doc Andy Murray plans to set a world record by running 3,000 miles in 85 DAYS - with NO time off.
The 30-year-old aims to make as many headlines across the world as his tennis namesake by running more than 30 miles a day from John O'Groats to the Sahara desert in North Africa.
The gruelling charity challenge, which begins on November 8, will see the Aberdeen GP complete eight miles MORE than a marathon every day for nearly three months.
Japan's Akinori Kusuda, 65, ran the 26.2-mile distance 52 days in a row last year to claim the Guinness World Record for the most marathons run on consecutive days.
But if Andy achieves his amazing feat the world record will be his.
He said: "It would be amazing to be the benchmark for marathon running. I'm not at that stage yet though so I need to keep focused on getting the job done."
---