...for the Military
UK Gear's training shoes were originally designed in association with the Royal Army Physical Training Corps (RAPTC). These elite fitness professionals were closely involved in the development and tested our products in some of the most inhospitable conditions on Earth. Only when approved by the Military do we consider our products... Built to survive.
Paul Bateson, Director of Team Axarsport
---
Paul Bateson completes the 1,000 mile challenge wearing UK Gear's PT-1000's!
"I have been wearing UK Gear's PT-1000 road and trail running shoe for training and competing in since they were launched about six months ago and I have now ran a total distance of 1,000 miles in them! The shoes are deceptively light for such a tough and hard wearing road and trail shoe. They were comfortable straight from the box and took very little 'breaking in'. I did, however, fit my insoles of choice but I am sure the ones supplied would be as long lasting as the shoes are."

"I have worn many makes of road and trail shoes over the past 40 odd years of competing and none have had a sole that has lasted anywhere near as long, even more impressive has been the upper fabric. Practically every shoe I have had has worn through at the bend points' outer edges, often within 150-200 miles of use. However, the PT-1000's are still virtually unmarked, not even a slight tear, amazing! And this isn't just confined to this particular model of UKGear's shoes, I also have the PT-03 DESERT and WINTER models and the uppers of both these are also undamaged."
| | |
| --- | --- |
| | |
| | |
| PT-1000 after 1025 miles (1650 km) | |

"As I live in Andalucia the conditions I race and train in are very different to what runners in the UK are used to, so my trial and review is based on hot, dry, dusty conditions with very little wet weather use. This climate means terrain can be harsh and dry underfoot and the PT-1000's have handled this very well. The majority of my training and races are on mountain trails, 4x4 tracks and hard packed earth and the 1,000 mile sole is perfect for this. Anything more technical requires a specific mountain racing shoe but for the longer races such as ultras, which are not generally on highly technical courses, the PT-1000 is perfect. I have also run a 42min/10km in them so they aren't bad for road racing either."
---
About Paul Bateson.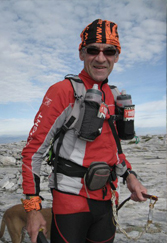 Director of Team Axarsport, Paul Bateson, celebrated his 60th birthday at the start of the year, and to celebrate? He went for a 23km run in his new PT-1000's with fellow Test Runner, Dr Andrew Murray! Paul, who now resides near Alhama de Granada, Spain runs on average a staggering 3000km per year!

"I am not one for lots of big distance days, at my age I tend to be more specific and train sensibly for my next event so I would do a week of shorter but faster efforts if I had a 10km or half marathon coming up. Having said that if Jacob Halstrup visits in April, we may try to run round the natural parq perimeter, approx 200km in 4 days."

Paul has over 13-years of experience in cycle racing, road, track and cyclo-cross plus fell and adventure racing in the UK. His cycling career in England came to a devastating end 15-years ago due to a hit and run accident. As a result, Paul has gradually lost his hearing over the past 15 years, but this in no way has kept him from achieving great successes.

Paul says "I think the last 10 years have been the biggest achievement for me and despite lots of wins and top 3 places, I feel the Andanatura Foundation Award that Team Axarsport received for work in promoting and developing sports tourism in our local Sierra Tejeda, Almijara and Alhama natural park was quite an achievement."

2011 will be a busy year for Paul as he plans to take part in the UTAT Mountain 2 Stage race in the Atlas mountains, Morocco, the Jarapalos Mountain Marathon in November and for the rest of year he will be busy organising the Al Andalus Ultra Trail and UltimaFrontera160. Paul has used UK Gear shoes to train and compete in for several years, the PT-03 DESERT shoes and PT-1000 shoes being his shoes of choice.
| | |
| --- | --- |
| | |
---
Paul Bateson - A history of achievements

● 3 years as a Civilian Instructor with Air Training Corp, teaching navigation.
● Duke of Edinburgh Award Scheme supervisor.
● Mountain Leader Training Board (summer conditions) trained.
● Organisation of road races across North of England / Yorkshire Cyclo-Cross championships.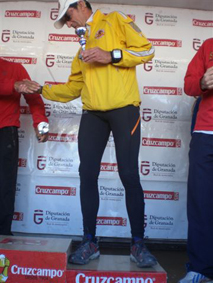 ● Competed in 5 Three Peaks of Yorkshire Cyclo-cross races.
● Fell running at all distances, from 3 miles to marathon distance.
● Hiked Israel, Jordan and Tunisia.
● Marathon des Sables.
● Morocco 
Andalucian Mountain Running Champs: 2nd.
● Pico Veleta 50km uphill: 3rd and two 1sts (Age cat 50)
● Granada Half Marathon 2010: 1st Vet 55.
● Loja 11.5km: 3rd Vet 60.
● 2011 Armilla 10km: 3rd vet 60.
source: www.axarsport.com

---