...for the Military
UK Gear's training shoes were originally designed in association with the Royal Army Physical Training Corps (RAPTC). These elite fitness professionals were closely involved in the development and tested our products in some of the most inhospitable conditions on Earth. Only when approved by the Military do we consider our products... Built to survive.
The British Army - PT-1000 review
>>25 August 2010
---
Army helps in development of 1,000 mile running shoes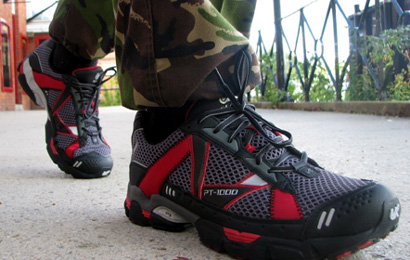 The first shoe designed to last 1,000 running miles, the PT-1000, has been produced by UK Gear with the help of British Army fitness instructors from the Army Physical Training Corps (APTC).
The British Army's association with the Warwickshire-based firm goes back many years. In fact, this ultra-durable running shoe alone has taken eight years to develop with the APTC's help.
APTC instructors are the fittest of the fit and have been running in excess of 70 miles per week wearing the new shoes, and can vouch for the PT-1000's durability and comfort over long distances.
From treadmill to cross-country, the Army's varied training grounds have provided the perfect test for the shoe's all-round functionality and durability.
No sweat
Major Dougie Peters, of the APTC, said: Our instructors are responsible for the physical development of all the soldiers, so are serious about their fitness and uncompromising on the standard of equipment they use.
"The PT-1000 was rigorously tested by 40 of our instructors who ran thousands of miles in prototypes. The PT-1000 has earned the right to bear the British Army's famous crossed swords insignia."
David Hinde, of UK Gear, said: "The PT-1000 is the result of our long-term strategy to build the world's most durable and sustainable running shoe – without compromising on biomechanical performance or comfort.
"Our unique and long-lasting relationship with the British Army has been our inspiration and has allowed us to test our products to withstand some of the harshest conditions in the world, by some of the most demanding athletes in the country."
Even the US Army likes its personnel to wear shoes developed with British Army fitness instructors - issuing UK Gear's other PT-03 running shoe to all its Army recruits. The PT-03 is another example of British kit, trialled and worn by APTC staff and worn by British and American troops.
PT-1000 shoes are available to buy online at the UK Gear website, or in selected High Street sports outlets.
---
---
---
---
---
---
---
---
---
---
---
---
---
---
---
---
---
---
---
---
---
---
---
---
---
---
---
---
---
---
---
---
---
---
---
---
---
---
---
---
---
---