...for the Military
UK Gear's training shoes were originally designed in association with the Royal Army Physical Training Corps (RAPTC). These elite fitness professionals were closely involved in the development and tested our products in some of the most inhospitable conditions on Earth. Only when approved by the Military do we consider our products... Built to survive.
British Army Soldier Completes the 1,000 Mile Challenge
>>09 September 2011
---
Serving Soldier WO2 Brown completes 1000 miles in his UK Gear PT-1000's
!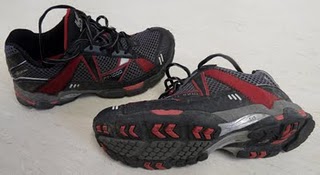 "I ordered my pair of UK Gear PT-1000's online at www.ukgear.com and they arrived shortly after. Though the shoes were my normal size and they fitted well, I found the back heel quite high on them, which started to rub the back of my ankles. Courtesy of some great customer service and a 21 day test run policy I soon swapped them for half a size smaller; I found they fitted just as well – and no rubbing on the ankles.

Comparing my PT-1000's to some fairly expensive, high performance training shoes that I've worn in the past, I found them more substantial; there is a lot of shoe to the PT-1000! But just as comfortable and even less expensive! Clearly, the design and technology behind the PT-1000 has focused on making the shoe sturdy and robust rather than trying to shave seconds off of the shoe owners PB. Initially, I did feel like I was plodding in a pair of beefy shoes with not much 'give', but after a short time they felt as comfortable as any shoes I've had before.

In the past I have suffered with all of the normal running injuries that you would expect from forcing an ageing body to do something it really doesn't want to do. The shoes provided the support and cushioning I needed for 1000 miles over road and trail in all weather and temperatures that are normally experienced in the UK. It wasn't until 950 miles that the first damage appeared; a small amount of split stitching appearing on one of the shoes.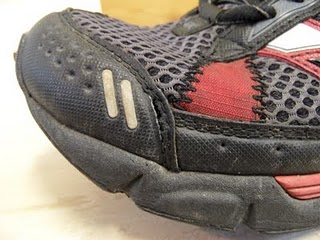 In summary, these are not 'racing snake' shoes – I believe they are not meant to be. For me, they have gone the distance on the end of a pair of weary legs, and proved UK Gear's claim of lasting 1000 miles!
If you're thinking of getting a pair, my advice is - do it, but consider the high back heel. The acid test – at 1000 miles, mine have been retired and replaced by another pair of PT-1000s."
---
Before and after 1000 miles!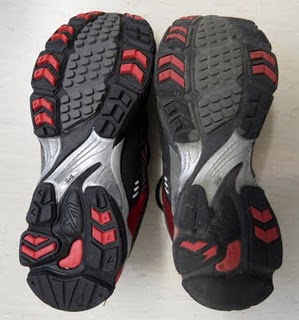 WO2 Brown will be taking part in several UK ultra marathons in aid of Severn Hospice as he trains for the 2012 Marathon Des Sables.
Source: GoodLittleRunner
---
---
---
---
---
---
---
---
---
---
---
---
---
---
---
---
---
---
---
---
---
---
---
---
---
---
---
---
---
---
---
---
---
---
---
---
---
---
---
---
---
---