...for the Military
UK Gear's training shoes were originally designed in association with the Royal Army Physical Training Corps (RAPTC). These elite fitness professionals were closely involved in the development and tested our products in some of the most inhospitable conditions on Earth. Only when approved by the Military do we consider our products... Built to survive.
Military Times' Gear Scout - PT-1000 Review
>>16 May 2011
---


UK Gear PT-1000: a shoe for every clime and place.
by Rob Colenso.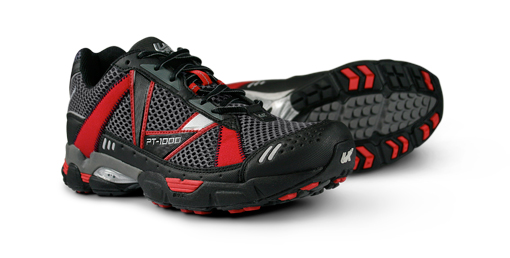 From the minimalist Vibram Five Fingers "toe shoes" to super-cushioned entries from Hoka One One and Tecnica, running shoes are becoming ever more mission-specific. So what to make of UK Gear's PT-1000? This is the straight-leg infantryman of the running shoe world.
Developed by UK Gear over eight years' time in collaboration with the British Royal Army Physical Training Corps, the PT-1000 is billed as the first road and trail shoe "built to survive 1,000 miles."
When you need a highly specialized shoe built for rugged mountainous terrain, there are shoes more suited than this one. When you need a pair of lightweight road racing flats that weigh little more than your fuzzy bunny slippers, you'll want to look elsewhere. But if you're looking for a shoe that will ably serve in any clime and place, the PT-1000 is a good bet.
I've logged about 100 miles so far in the "structured cushioning" variant of the PT-1000, split about equally across road, trail and treadmill. So far, they seem tough enough to handle 1,000 miles — on the outside at least. With a rugged toe bumper and beefy overlays along the bottom of the shoe's upper, they take a beating and protect your feet on even the toughest trails. And the sole's tread pattern seems suited for training runs on a variety of terrain.
Between the tough exterior and a healthy amount of cushioning, runners can expect a supportive and comfortable ride on even the longest training runs. I logged a 20-mile road run and found that the PT-1000 effectively absorbed the punishment a long run on asphalt can dish out.
But with that durability come a couple of tradeoffs. At 12.3 ounces, they're not the lightest training shoes on the market. And among stability shoes, the PT-1000 doesn't feel especially responsive.
With only 100 miles on them so far, it's hard to say whether the PT-1000 has the stuff to last 1,000 miles – roughly double that of a typical running shoe – but even if the midsole doesn't survive that long, these shoes are definitely built to take a beating otherwise.
Available in neutral and structured cushioning variants, the PT-1000 retails for $130. While it's not the cheapest running shoe out there, the "cost per mile" may make these shoes worth the price – assuming they do make it 1,000 miles.
Rob Colenso is a former Marine and an ultramarathoner. His preferred destination for punishing gear is Virginia's Massanutten Mountains.
source: www.militarytimes.com

---
---
---
---
---
---
---
---
---
---
---
---
---
---
---
---
---
---
---
---
---
---
---
---
---
---
---
---
---
---
---
---
---
---
---
---
---
---
---
---
---
---