...for the Military
UK Gear's training shoes were originally designed in association with the Royal Army Physical Training Corps (RAPTC). These elite fitness professionals were closely involved in the development and tested our products in some of the most inhospitable conditions on Earth. Only when approved by the Military do we consider our products... Built to survive.
UK Gear join forces with the Red Devils Parachute Regiment Freefall Team
>>13 April 2011
---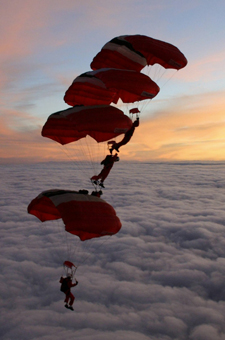 Endurance runner, Dr Andrew Murray has ran 2,650 miles from the Scottish Highlands to the Moroccan Desert wearing them. Adventurer and Mountaineer Stephen Bock has trekked to the snowy ridges of Mt. Everest Base camp wearing them. And now we are honoured that the Red Devils Parachute Regiment Freefall Team has adopted UK Gear's ultra durable PT-1000's as their official shoe of choice.
The Red Devils team, which is the display team of both the Parachute Regiment and the British Army, will be taking the performance shoes up to over 13,000 ft in the air as they free fall into events during 2011.
The team recently wore the PT-1000's for their first display of this year at Aintree for the John Smiths Grand National Liverpool Day.
Team Leader, Sergeant Jay Webber, who joined the Red Devils in 2005 says "The Red Devils team needed a performance shoe that was light weight, durable and easy to clean. We train on a daily basis and needed a shoe that could cope with our rigorous training regime and of course looked good with the uniform. The PT-1000's were our first choice and we are delighted that UK Gear are supporting us in 2011. Great minds think alike!"
After a trip to Dubai and Brunei later this year, the team of twenty skydivers will be jumping into the world famous Silverstone FIA GT circuit to start the GT 1 World Championship.
To celebrate the union, UK Gear and The Red Devils will be offering one lucky winner the chance to sky dive with freefall team at their base in Wiltshire. Details of the competition will be announced on www.ukgear.com and on the UK Gear Facebook page.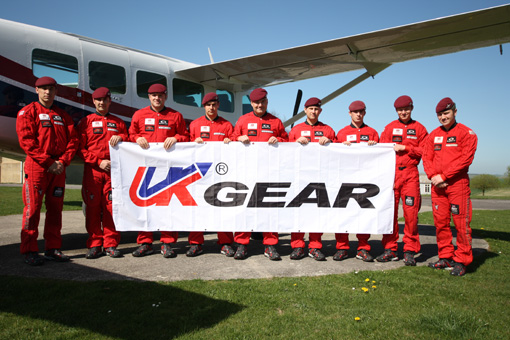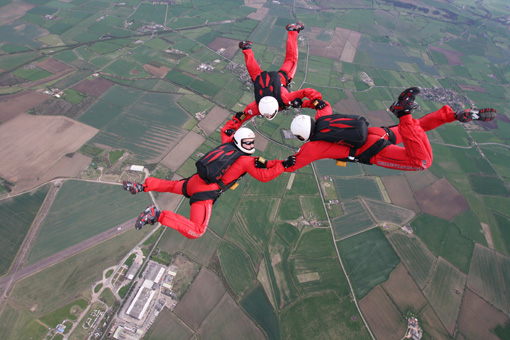 website: www.reddevilsonline.com
---
---
---
---
---
---
---
---
---
---
---
---
---
---
---
---
---
---
---
---
---
---
---
---
---
---
---
---
---
---
---
---
---
---
---
---
---
---
---
---
---
---
---
---
---
---
---
---
---
---
---
---
---
---
---
---
---
---
---
---
---
---
---
---
---
---
---
---
---
---
---
---
---
---
---
---
---
---
---
---
---
---
---
---
---
---
---
---
---
---
---
---
---
---
---
---
---
---
---