...for the Military
UK Gear's training shoes were originally designed in association with the Royal Army Physical Training Corps (RAPTC). These elite fitness professionals were closely involved in the development and tested our products in some of the most inhospitable conditions on Earth. Only when approved by the Military do we consider our products... Built to survive.
Victory for Team UK Gear at London Spartan Race
>>28 October 2011
---
On Sunday 16th October, 2011, 10 elite fitness professionals of the Royal Army Physical Training Corps (RAPTC) joined forces to become Team UK Gear and compete in the concluding UK Spartan Race in Redhill, Surrey.
More than 4,000 mud-thirsty runners signed up to take part in the brutal Spartan Sprint; a punishing 5k obstacle course that commanded challengers to drag their tiresome bodies through pits of ice, under razor sharp barbed wire, up and down mud slides and go up against the mighty Spartan warriors themselves.

Wearing PT-1000 running shoes, Team UK Gear battled through the course and took victory as each member finished in the overall Top 100.
| | |
| --- | --- |
| | |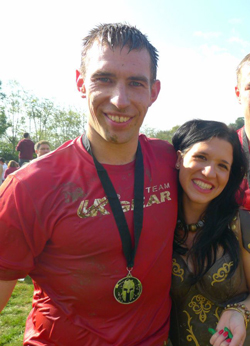 Lichfield based Team member, SSgt Edward Hargreaves, completed the course in an exceptional time of 28:27.1, which placed him 4th overall.

Ssgt Hargreaves said "I am really happy with my result. If I knew I was that close to placing in the Top 3, I would have pushed harder. It was a phenomenal race, and Team UK Gear are looking forward to taking part next year!"

"I was extremely impressed with my PT-1000's. They gave me enhanced traction and grip which was paramount when negotiating the Spartan obstacles. The trainers were also very comfortable and gave me more than adequate cushioning. They felt very responsive with the ever changing terrain.

Considering I spent a lot of time crawling through mud, gravel, and ice and even running through fire, the PT-1000's performed well. None of the Spartan obstacles were an issue for these shoes and I felt more than confident when I had to run hard down steep muddy descents riddled with tree routes.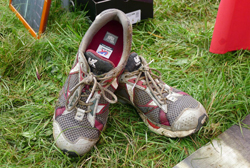 I would definitely use the PT-1000 trainers again and strongly recommend using them for middle and long distance running and certainly for extreme events such as the Spartan Race series. Looking around after the event, there seemed to be a lot of competitors with damaged trainers caused by the obstacles. However the PT-1000's looked as good as new just slightly muddy and very wet."
At the UK Gear tent, Team UK Gear challenged Spartan Race goes to a press up competition where by competitors had to see how many press ups they could do within the set time of 60-seconds.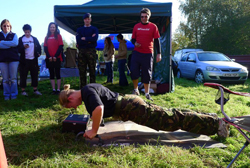 Congratulations to Mr Darren Duddy who won the UK Gear '60 second Press-Ups' competition on the day! Darren has won a pair of the PT-1000's, RRP £95.

If you would like to join Team UK Gear and run in a Spartan Race next year, sign up here.

Team UK Gear: SSgt Edward Hargreaves, SSgt Gareth Shilton, Cpl Adam Milson, Cpl Adam Jones, Cpl Chris Excelby, Cpl Jay Knight, Cpl Chris Sharpe, Cpl Phil Carpenter, Cpl Kai Feldsman, Cpl Baggy Magar.

---
---
---
---
---
---
---
---
---
---
---
---
---
---
---
---
---
---
---
---
---
---
---
---
---
---
---
---
---
---
---
---
---
---
---
---
---
---
---
---
---
---
---
---
---
---
---
---
---
---
---
---
---
---
---
---
---
---
---
---
---
---
---
---
---
---
---
---
---
---
---
---
---
---
---
---
---
---
---
---
---
---
---
---
---
---
---
---
---
---
---
---
---
---
---
---
---
---
---