...for the Military
UK Gear's training shoes were originally designed in association with the Royal Army Physical Training Corps (RAPTC). These elite fitness professionals were closely involved in the development and tested our products in some of the most inhospitable conditions on Earth. Only when approved by the Military do we consider our products... Built to survive.
Team UK Gear prepare for battle at the mighty Spartan Race
>>30 September 2011
---

TEAM UK GEAR

HAVE BEEN TRAINING LONG AND HARD FOR THE FORTHCOMING SPARTAN RACE EVENT, WHICH WILL BE HELD AT GAMECOCK BARRACKS IN NUNEATON ON SUNDAY 2ND OCTOBER 2011.
The team of 5 runners and fitness fanatics will put on their UK Gear shoes and compete against 900 competitors from across the country to complete the challenging Spartan Sprint; a muddy 3-mile course involving 15 insane obstacles, trail racing, physical and mental challenges.

Spartan says: "The Spartan Race is designed to test your resilience, strength, stamina, quick decision making skills, and ability to laugh in the face of adversity. Our unique obstacle course trail races will demand every ounce of your strength, ingenuity, and animal instinct. You will understand at the finish line..."

Team UK Gear will be tying the laces of their PT-1000's and raring to start the 11am heat on race day and then again at 12pm. If you are in the area, come on down and support the team...


GO TEAM UK GEAR!!

WHAT IS SPARTAN RACE?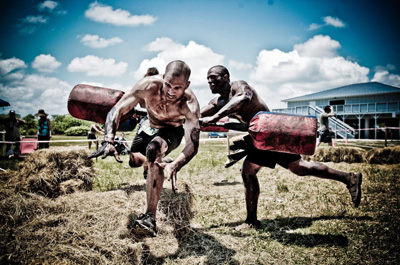 'Designed by seven ultra athletes and a Royal Marine, Spartan Race is the global leader in Obstacle Racing since 2005, and has become an international obstacle racing series with three levels of courses: 3 mile Sprints, 8 miles Supers (Olympic Distance) and 10 – 12 miles Beasts (Ultra Distance) where you will run, jump and crawl your way over a dozen or more obstacles put in your way!
Courses are uniquely designed to test your mental and emotional fitness and push you past your limits. The races are muddy, creative, and extreme. They will exhaust you and exhilarate you. Race as an individual, as a part of a team or BOTH!
Spartan Race is on a mission to get you active, healthy, excited about change, and return to our ancient roots where running through woods, getting dirty, and facing adversity was part of everyday life. Our events are all about challenging today's perception of normal.''

---
---
---
---
---
---
---
---
---
---
---
---
---
---
---
---
---
---
---
---
---
---
---
---
---
---
---
---
---
---
---
---
---
---
---
---
---
---
---
---
---
---
---
---
---
---
---
---
---
---
---
---
---
---
---
---
---
---
---
---
---
---
---
---
---
---
---
---
---
---
---
---
---
---
---
---
---
---
---
---
---
---
---
---
---
---
---
---
---
---
---
---
---
---
---
---
---
---
---