...for the Military
UK Gear's training shoes were originally designed in association with the Royal Army Physical Training Corps (RAPTC). These elite fitness professionals were closely involved in the development and tested our products in some of the most inhospitable conditions on Earth. Only when approved by the Military do we consider our products... Built to survive.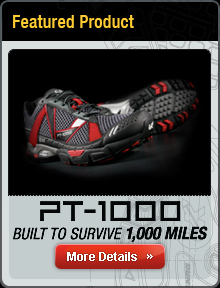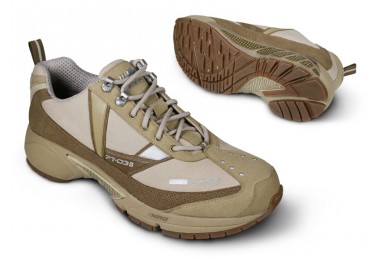 Click to enlarge image
For orders to USA, please allow up to 10 business days.

The PT-03 DESERT is built on a uniquely formulated midsole which delivers excellent durability and shock absorption in extreme heat.
Featuring a tough sandproof upper to protect your feet and shoe from the environment. Together with a heat resistant gum outsole and a bio-flexible underfoot bruise plate, this shoe is designed to assist you to run safely and comfortably in the hottest and most arid of environments.
This Structured Cushioning (SC) shoe is supportive and long lasting with an excellent level of cushioning. Well suited for runners with an average running gait and mild to moderate stability needs.

---
Upper Materials:
Weight: 14.4 oz | 410 g
Canvas mesh/Suede (synthetic)
PT-03 DESERT Hot Environment Running Shoe
The PT-03 DESERT running shoe took over 12 months to develop with the Royal Army Physical Training Corps before going through final wear testing with the British Army in the harsh terrains of Afghanistan.

The shoe has an optimal temperature range of +25 to +50°C (+77 to +122°F) making it ideal for desert or other hot weather training.
Midsole: EVA compound modified to enhance tear strength greatly aiding midsole/outsole adhesion.
Sockliner material: Modified to full High Grade EVA for improved cushioning and durability.
S+S Plates: TPU construction modified to a thicker clear TPU for added stability and durability.
Heel lining material: Improved abrasion resistance whilst maintaining softness.
Outsole (All): Gum rubber compound heat resistance modified for increased durability in extreme heat.
Outsole (Toe Wrapover): Added stitchrow following groove to ensure excellent bonding.
Outsole (Medial Forefoot): Medial side forefoot reinforced with additional outsole material thickness.
Outsole (Heel Landing Pad): Reverted to same as on original PT-03 for proven wear and bonding.