...for the Military
UK Gear's training shoes were originally designed in association with the Royal Army Physical Training Corps (RAPTC). These elite fitness professionals were closely involved in the development and tested our products in some of the most inhospitable conditions on Earth. Only when approved by the Military do we consider our products... Built to survive.
PT-1000 - Alex Howarth, Ultra Trail du Mont Blanc
>>03 August 2010
---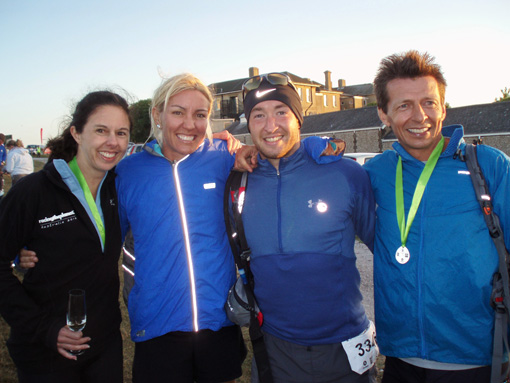 I am not born to run which is the first thing I'll say about my adventure into the world of ultra running. I am flat footed, do not have the slim build of marathon runners and I have a long list of bio-mechanical short comings. However, I didn't know these things when I decided to sign up for my first ultra in July 2008.
I was just about to turn 30 was fed up with my job as a city lawyer and generally felt the need to find a new challenge. I came across the Racing the Planet website and saw that they had a 250 kilometre self supported race through the Namib Desert in May 2009 and I figured that the race ticked all the boxes in terms of challenge and timing and promptly signed myself up.
Then came 9 months of training and having my eyes opened to the world of ultra running. I went from playing 5-a-side football and the odd 5k run on a treadmill to running around the Scottish borders with a 10kg back pack, my first ultra marathon (a 50 mile race from Oxford to Henley) and running from London to Brighton over a weekend. It was a steep learning curve where I also discovered the down sides of running including shin splints and chaffing!
During my training I was looking at all the kit and came across UK Gear and their PT-03 DESERT shoe and figured if it had been tested in Iraq and Afghanistan then it should be up to the rigours of the Namib Desert. I think a large number of people do not complete these events because their feet go and the PT-03 and short gaiter kept the sand out of my feet all week and other than losing a few toenails my feet were in surprisingly good condition at the end of the week. This meant that I could focus on all the other pains in my body and let my feet keep me plodding along through the desert! I ended up finishing 56th out of almost 220 runners which exceeded my expectations which had been set at just finishing!
Having met some amazing people and had such a fantastic experience I knew I would have to do another event.
I raised £10,000 for Help for Heroes and decided that I would try and do one big event each year and raise money for them each time. This year it is the Ultra Trail du Mont Blanc, a 103 mile run race round Mont Blanc covering 10,000 metres of elevation with a 46 hour cut off time. The events I did in 2009 allowed me to apply for a place in UTMB and as only 51 per cent. of the field finish this will be my toughest challenge to date.
In training for the event I started the year running 33 miles along the North Downs in the Pilgrim Challenge, 3 marathons in 3 days in Dorset in the Jurassic Coast Challenge, a 90 kilometre weekend in Chamonix getting used to running at altitude and in the mountains and I have just completed the Oxfam Trailwalker in aid of the Gurkha Welfare Trust, a 100 kilometre run along the South Downs. Though the official results are yet to go up our team managed to run the course in just under 13 hours putting us only 20 minutes outside the course record for a mixed team which was fantastic.
This was also my first race in my new PT-1000 and they were awesome, extremely comfortable and durable. They take my orthotic easily and once again I had no blisters on the soles of my feet and just the obligatory missing toenails!
I am now into 5 weeks of tapering before the big event but as with all the other ultras I have run I am very much looking forward to meeting new people and hearing about their experiences and how they got into ultra running. The commerarderie at events is what sets them apart from other sports.
In my experience there are very few egos and the best runners are often the most humble unassuming people. Everyone is incredibly supportive which I think stems from the fact that for most people the competition is between the individual and the terrain not with the other competitors so no one ever asks "where did you finish?" or "what time did you do it in?" people are just enthusiastic that you are taking part and even more so if you finish!
---
---
---
---
---
---
---
---
---
---
---
---
---
---
---
---
---
---
---
---
---
---
---
---
---
---
---
---
---
---
---
---
---
---
---
---
---
---
---
---
---
---
---
---
---
---
---
---
---
---
---
---
---
---
---
---
---
---
---
---
---
---
---
---
---
---
---
---
---
---
---
---
---
---
---
---
---
---