...for the Military
UK Gear's training shoes were originally designed in association with the Royal Army Physical Training Corps (RAPTC). These elite fitness professionals were closely involved in the development and tested our products in some of the most inhospitable conditions on Earth. Only when approved by the Military do we consider our products... Built to survive.
Paul Bateson's 1,000 mile shoe review - no.2
>>23 September 2011
---
UK Gear fan and ULTRA-Runner Paul Bateson has just completed his SECOND 1,000 miles in a pair of PT-1000! This time the neutral cushioning version.


Here follows his report: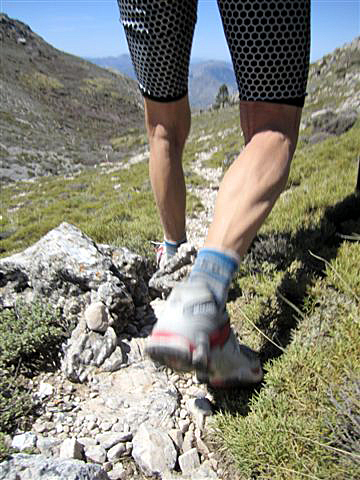 "I run a lot, it is my hobby, I also do it for a living; footwear is important.

Over many years of running, both on and off road I have tried and tested numerous makes, types and models of shoe. Some shoes are good specifically for road racing, some for road high mileage training, some for technical trails, some for mixed trail ultras and some very specifically for mountain and fell racing. The latter generally suit the wet and boggy conditions most often endured in the UK. Horses for courses and usually the better the grip the faster the wear and unfortunately this usually includes the uppers.

It is no secret that I am a big fan of the UK Gear range of shoes and that I no longer live in the UK. I have lived for over 11 years in the hot, dry mountains of Andalucia in Spain, where shoes rarely get wet, but they do have to deal with high temperatures, dust, grit, thorns, sharp rocks and sweat.

As well as regularly racing, I also organise races and the Al Andalus Ultimate Trail 5 stage race held every July, is known for being hot, tough and hard on your shoes. I also organise Desert Runner Training Camps for people entered in events like the Marathon Des Sables - and the perfect shoe for races like this, period, is the UK Gear PT-03 Desert, the only shoe I know of that is specifically designed for use in high temperatures and deserts.

The PT-03 Desert is a good shoe for Al Andalus and would certainly handle it but an even better shoe for this climate and mountainous terrain, where there isn't quite as much sand, is the PT-1000. The PT-1000 is produced in both SC (structured cushioning) and NC (neutral cushioning). I have used both and covered over 1000 miles in each model but as I don't require the additional stability I prefer the NC.

These shoes are quoted as being 'The world's first running shoe built to survive 1000 miles' and when you first read this and see that the shoe is developed by UK Gear in association with the Royal Army Physical Training Corps you could be forgiven for thinking that they would be heavy and very basic. Nothing could be further from the truth. They weigh a very respectable 11.9oz/340grams, and are ultra-durable road and trail shoes that make no compromise on biomechanical performance or comfort. I wouldn't choose them to race on very technical courses where it is likely to be wet and muddy but they are perfect for the majority of trail ultras where there is a mix of road, jeep track, single track, mountain and forest trails.

The shoe is packed with very innovative features but for me it isn't just the fact that the soles will do the distance, it is also amazing that the uppers also perform to match. In practically every other shoe I have used it is the uppers which breakdown first, usually across the bend point outer edges which become full of holes very quickly. The PT-1000's uppers are still in very good condition after 1000miles and look good for a few hundred more and even the laces are in perfect condition.

The shoes are comfortable straight from the box, fit is accurate and there is plenty of toe box space with an anatomically shaped heel and ankle designed to prevent Achilles tendonitis. They also have an anti-microbial treatment designed to inhibit the growth of bacteria, fungus and other odour-causing microbes and amazingly this works as stated, even after long, hot, multi days of running the shoes remain odour-free.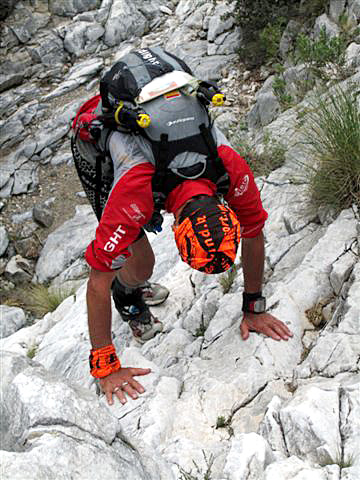 Over the past year I have raced from 10km (42min) through to 101km (14hours), run/walked 4 day mountain tours, planned and run race routes, trained in some very tough, dry, harsh and dusty conditions and even a couple of wet days (which included stream crossings). The shoes are worn almost every day, they are now grubby and worn but still good for many more miles.

There are hundreds of shoes on the market, competition is fierce, all offer good performance features but for me the overall choice for the majority of runners has to be the PT-1000. They are already well proven in events like Scotland to Sahara, Al Andalus, The High and UTMB and for anyone looking for a suitable high mileage shoe for events like these I don't think you could find a better shoe."


Paul Bateson


TrailRunSpain
Andalucia, Spain
[email protected]

www.axarsport.com
www.trailrunspain.com
www.alandalus-ut.com
www.ultimafrontera160.com

---
---
---
---
---
---
---
---
---
---
---
---
---
---
---
---
---
---
---
---
---
---
---
---
---
---
---
---
---
---
---
---
---
---
---
---
---
---
---
---
---
---
---
---
---
---
---
---
---
---
---
---
---
---
---
---
---
---
---
---
---
---
---
---
---
---
---
---
---
---
---
---
---
---
---
---
---
---