...for the Military
UK Gear's training shoes were originally designed in association with the Royal Army Physical Training Corps (RAPTC). These elite fitness professionals were closely involved in the development and tested our products in some of the most inhospitable conditions on Earth. Only when approved by the Military do we consider our products... Built to survive.
UK Gear PT-03 v Asics GT-2130
>>10 May 2010
---
Individual Running
Review kindly supplied by:
Stuart Christy from Northern Ireland

After three years of loyal service; my PT-03's deserve a rest. They have pounded the roads from Portadown to Pittsburgh. They have crossed streams, muddy fields and nurtured my tender trotters through torrential rain and blistering sunshine alike... and they have lived up to their reputation of being Fit for Purpose.

Three years is a long life for a pair of running shoes. Normally I retire my shoes after six months, sometimes sooner but with new Sofsoles in my PT-03's every few months I remained injury free for a third of a decade.
Before UK Gear burst onto the scene, I could be seen in a pair of Brooks, New Balance, or Asics. I remember thinking if a shoe could be made to marry the ruggedness of my Brooks with the comfort of my Asics, I would have a fine shoe indeed. Over Winter 2007, I found that combination and more in my PT-03's and though I was apprehensive at first, I didn't have to worry about them being unsuitable. They came with a no quibble return policy and the blessing of some serious people with 150 years of experience in such matters: The British Army's Physical Training Instructors.
During spring 2008 I accidently neglected to bring my PT-03's to the USA with me. As UK Gear shoes were not available at that time, I purchased Asics GT-2130's to tide me over.
| | | |
| --- | --- | --- |
| | Vs | |
| UK Gear PT-03 | | Asics GT-2130 |
Within the first two weeks of use the right toe on the Asics had begun to disintegrate and that was quickly followed by the outer panels. I didn't make the same mistake when it came to my second trip away. From the summer of 2008 until now, my PT-03's have been my only running shoe. I used the GT-2130's for light gym work and circuit training for a short time.
Service Record: PT-03
Active Service

3 Years

Frequency

Weekly:
2x 2.5 Miles, 1x 5 Miles
Plus some long distance sessions

Condition Uppers

Wear is beginning to outwardly appear on the extreme left side and internally where the toes make contact with the fabric. The uppers have loosened and stretched with use as expected but most of the shoe remains sound.

Condition Heels

The PT-03 favoured the Sofsoles well. There is wearing on one side of the shoes where the heels rubbed against the interiors. The interiors appear to have consisted of hard wearing materials and it took a substantial amount of time (over a year) for the wear to appear before degenerating gradually as depicted.

Feel

PT-03's feel wonderful to wear and run in. They are light and plush when new and will remain so for a long time. They are as comfortable as slippers, but slippers you can run in and run through puddles in.
Service Record: Asics GT-2130
Active Service

9 Months

Frequency

Weekly: Weekly:
2x 2.5 Miles, 1x 5 Miles

Condition Uppers

After a couple of weeks in Pittsburgh the toe started to come through the shoe. Not long after the panels began to disintegrate. After three months the shoes were as displayed except the holes still had a very fine layer of outer mesh remaining (similar to the toe wear) which has since worn away completely during other use.

Condition Heels

The heel had begun to wear at the same time as the outer panels. It had disintegrated as depicted after nine months of ownership but I had long since ceased to run in the shoe.

Feel

GT-2130's feel great to run in and are great to wear (on dry days). They do not repel water well. They are light and soft when new and Asics seem to have got the shape of my feet just right but the feel was short lived as they succumbed to my toes within weeks of purchase.
Conclusion
There is no doubt that I should have replaced my PT-03's long ago, and it is unfair to Asics to suggest that their shoes are inferior in some way simply because my feet wore their shoes more rapidly than they did UK Gear's. This was not a scientific comparison merely a reasoning for my continued choice of shoe.

Everybody's feet and gait is different, and no manufacturer with the exception of UK Gear intends their shoe to last, let alone three years. Many intend their shoes to provide comfort for a season and for the user to then buy more shoes with differing seasonal styles.

That said; I have found that for my feet, UK Gear's PT-03 lives longer on my feet than any other running shoe I have owned. With the occasional addition of new insoles, I can be sure that I have found a running shoe that gives me injury free and luxurious training at exceptional value.

They were half the price of a competitor's shoe with the same technologies and they have given me three years when most shoes get replaced after six months. It isn't often I get a saving of 90% before even asking for discount... my PT-03's certainly don't owe me anything.
I love them, I am a fan!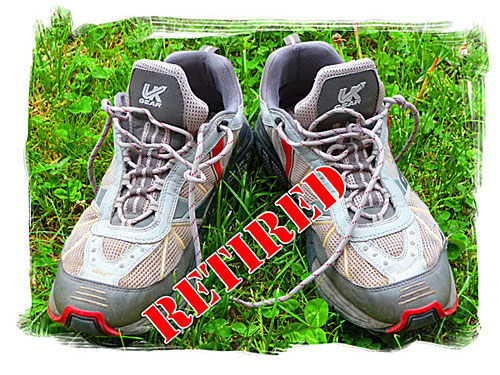 RIP
PT-03 SC
2007 - 2010
---
---
---
---
---
---
---
---
---
---
---
---
---
---
---
---
---
---
---
---
---
---
---
---
---
---
---
---
---
---
---
---
---
---
---
---
---
---
---
---
---
---
---
---
---
---
---
---
---
---
---
---
---
---
---
---
---
---
---
---
---
---
---
---
---
---
---
---
---
---
---
---
---
---
---
---
---
---