...for the Military
UK Gear's training shoes were originally designed in association with the Royal Army Physical Training Corps (RAPTC). These elite fitness professionals were closely involved in the development and tested our products in some of the most inhospitable conditions on Earth. Only when approved by the Military do we consider our products... Built to survive.
PT-03 - Seb Bates : The Marrakech Express
>>16 January 2008
---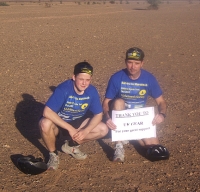 By Seb Bates (aged 17)

I am a 17 year old ICT student, who first came across this website when my Dad asked me to search for the UK Gear logo. Why? Who? What? Then I realised that this had something to do with one of our corporate sponsors and we wanted to advertise their logo on our fund raising literature and during our Mad Cap Cycle Trek that my Dad and I undertook at the end of October this year (2007).

My Grandmother died in February this year of the evil disease of Alzheimer's and my father and I wanted to remember her in a very special way. So we organised a 500km cycle ride in Morocco, riding north from the northern edge of the Sahara Dessert over the High Atlas Mountains into the imperial city of Marrakech. This was a 5 day cycle ride covering 100kms per day and carrying everything we needed with us to stay under the African stars and to feed and water ourselves. The main aim was to raise awareness and funds for the Alzheimer's Society but at the same time it was a wonderful experience and a great thing to do as father and son.

At the start of 2007 when we began preparing and training for this we were after support and help and UK GEAR kindly donated each team member a pair of PT-03 NC Running Shoes. Just the job for the running and the light bike work we began doing.

Anyway to cut a long story short, I got out of school for a week (RESULT), we completed the trek successfully and raised an enormous amount of money for Alzheimer's. It was a fabulous experience, hard work covering up to 100kms each day with some days up hill for 8 hours! Therefore it was very important that both my Dad and I had trained hard in the months before and despite the rough nights spent sleeping in the cold and under the stars we battled through each day knowing how important it was to complete the trip. And it was well worthwhile.

But without the support of UK GEAR we would almost certainly found it a lot harder! A sincere thank you from the Bates Family and the Alzheimer's Society.

In fact we felt so good about it all we are now even daring to plan next years MAD CAP VENTURE. Do you remember the chap who took elephants over the Alps? Well if he did it I am sure My Dad and I can succeed in raising more money as we cycle in his path! - We might even try it in the snow! .... UK GEAR have you got a cold weather variant? Or do any of you want to join us!??

More detail of this year's event can be found at their charity web site: http://www.justgiving.com/Bates_Family_Cycle_Trek

UK Gear note: to see Sebastian's father's review click here.
---
---
---
---
---
---
---
---
---
---
---
---
---
---
---
---
---
---
---
---
---
---
---
---
---
---
---
---
---
---
---
---
---
---
---
---
---
---
---
---
---
---
---
---
---
---
---
---
---
---
---
---
---
---
---
---
---
---
---
---
---
---
---
---
---
---
---
---
---
---
---
---
---
---
---
---
---
---