...for the Military
UK Gear's training shoes were originally designed in association with the Royal Army Physical Training Corps (RAPTC). These elite fitness professionals were closely involved in the development and tested our products in some of the most inhospitable conditions on Earth. Only when approved by the Military do we consider our products... Built to survive.
PT-1000 Update - Sharon Gayter, International Ultra Distance Athlete
>>27 September 2011
---
Hi UK Gear,

Having now worn my PT-1000's for the AAUT race in Spain back in July and the Himalayas race, The High – La Ultra in August, I wanted to up-date you with my feedback of the PT-1000 shoe:

The fit of the PT-1000 toe box is excellent for me. Toes tend to get squashed as the feet expand during very long runs. My toes after the AAUT were blister free and when worn during the second half of The High, which was a 37 hour run for me I got no further blisters. The heel tab felt very high and so I trimmed this down as I have had Achilles problems in the past and likewise the lateral side near the ankle bone needed trimming down on both shoes. I think my ankle bones are quite low as I have to trim most of my shoes down in this fashion.

I have some very lightweight shoes that are more breathable but these compare similarly with other structured shoes of the same weight. The AAUT was a hot race, as was some of The High, but was not aware of my feet overheating or sweating more than normal.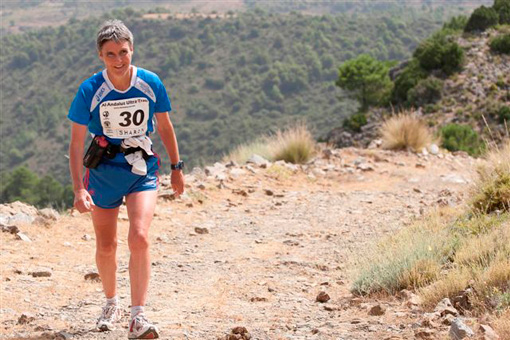 My PT-1000's gripped perfectly whilst running the AAUT and The High and during some of the muddy training runs I have done recently in the North York Moors, they have performed well.

The durability of the PT-1000 shoe is their key selling point for me, but I have yet to test them to the max. The first appeal of the shoe is not as good as some others, but this counts for nothing in my book and is always the performance. The fit is perfect for me, I would not used these for shorter road races as I prefer a lighter shoe, but is good for trail ultras which often involve road sections. I didn't personally have to do much breaking in, but rarely have to with many shoes. They felt stiff before putting them on but felt flexible enough when running in them. So far they look in incredible shape and showing little signs of wear, I am sure I will run far more than a 1000 miles in these!

Sharon Gayter
source: www.sharongayter.com

---
---
---
---
---
---
---
---
---
---
---
---
---
---
---
---
---
---
---
---
---
---
---
---
---
---
---
---
---
---
---
---
---
---
---
---
---
---
---
---
---
---
---
---
---
---
---
---
---
---
---
---
---
---
---
---
---
---
---
---
---
---
---
---
---
---
---
---
---
---
---
---
---
---
---
---
---
---