...for the Military
UK Gear's training shoes were originally designed in association with the Royal Army Physical Training Corps (RAPTC). These elite fitness professionals were closely involved in the development and tested our products in some of the most inhospitable conditions on Earth. Only when approved by the Military do we consider our products... Built to survive.
PT-03 DESERT Alex Howarth, Namibia 2009
>>29 January 2010
---
Dear UK Gear
Last May I competed in the Racing the Planet, Going Beyond Namibia 2009, 250k, 7-day, self supported race through the Namib desert.
I was a complete rookie to adventure racing and running in general so spent a lot of my 9 months training finding out about what kit would work best in the terrain and extreme temperatures. I came across UK Gear and the PT-03 DESERT shoe and figured that if it had been tested for use in Afghanistan and Iraq by the British Army then it should be up to the rigours of the Namib Desert.
The shoe was extremely comfortable and I used it with the short sand gaiter. While it is slightly heavier than your average trail shoe the extra robustness was more than worth it when taking on the difficult rocky descent into the Fish River Canyon and the boulder fields the other side.
While other competitors were dropping out with feet lacerated by the terrain and sand I was gradually improving my overall position in the race. The shoes let in no sand at all and I did not blister either which was incredible. Equally, the shoe was surprisingly breathable which meant that it felt comfortable during the heat of the day while remaining warm when running through the night stage.
Having set out just to complete the race I managed to finish 56th out of around 220 starters and having the right shoes played a vital part in that. I am now training for the North Face Ultra du Mont Blanc and am in the process of choosing a new shoe for the race and I will definitely be choosing a UK Gear shoe!

Adventure racing novice and UK Gear convert!
Alex Howarth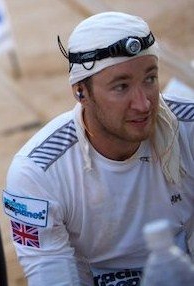 ---

Additional info
I raised £10,000 for Help for Heroes doing the run and finished 56th out of around 220 starters in my first event of this kind. Over a quarter of the field dropped out of a race which the organisers (Racing the Planet) described as the hardest they had put together. I now have a blog http://amateur-alexs-adventures.blogspot.com where I will be recording my training for the UTMB. I have attached a photo taken at the end of the 20hr through the night 100k stage!





---
---
---
---
---
---
---
---
---
---
---
---
---
---
---
---
---
---
---
---
---
---
---
---
---
---
---
---
---
---
---
---
---
---
---
---
---
---
---
---
---
---
---
---
---
---
---
---
---
---
---
---
---
---
---
---
---
---
---
---
---
---
---
---
---
---
---
---
---
---
---
---
---
---
---
---
---
---