...for the Military
UK Gear's training shoes were originally designed in association with the Royal Army Physical Training Corps (RAPTC). These elite fitness professionals were closely involved in the development and tested our products in some of the most inhospitable conditions on Earth. Only when approved by the Military do we consider our products... Built to survive.
RUN 247 - PT-1000 review
>>09 December 2010
---

Editor's Review: UK Gear's PT-1000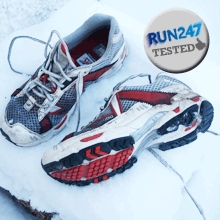 Not long after UK Gear launched the PT-1000 road and trail running shoe in August I was lucky enough to receive a test pair! Training has been a little fraught recently with a host of injury niggles but by December I now feel i've given them a good test.
The initial reaction, after reading the press release about the shoe was one of curiosity. 1000 miles is a lot of running and a trail shoe that can withstand such battering would surely need to be built like a tank! Would the shoe be very heavy and bulky? I think i was expecting the shoes to be closer to an army boot than to the light-weight fell running shoes I am used to.
When the shoes arrived they were in fact very 'normal' looking, which was a pleasant surprise. They felt surprisingly light and while they felt a little stiff at the first try (which i had been warned about) they fitted snuggly around my foot. Higher around the ankle than other trail shoes they felt like they'd hold my foot in place to prevent some ankle twisting on uneven ground. I was worried they would rub, but have not had any issues with this at all.
The initial stiffness wasn't noticable after an hour or so of running and the main 'feeling' of the shoe was one of sturdy, yet lightweight footwear that will cope with anything you want it too.
They have survived the floods - and have dried out remarkably quickly, even after miles through ankle deep puddles, something I value highly in a trail shoe! (Nothing worse than putting on wet shoes first thing in the morning!)
They have coped with some rugged terrain - they will never be competing with an out and out fell shoe on technical terrain, but I have worn them in the fells and on the trails in all weather conditions and have found them a reliable training shoe! I have raced in them on the trails too and found them a great option!
They have enough cushioning to cope with roads - no longer a big panic about wearing away the studs of the tread when faced with a stretch of tarmac and no whincing about jarring the knees even on steep decents on the roads. This ability to cope with hard surfaces is a characteristic I have learned to value a lot as few long runs can be planned entirely off-road if I want to run from the doorstep!
Just as most shoes get comfortable it's usually time to replace them. It's great to know the PT-1000 will last for a long time yet. There is little sign of wear on the uppers - even though I'm a bad shoe owner who never rinses mud of her shoes - and whenever I experience any niggles it's the trusted PT-1000 I reach for.
The PT-1000 will be my choice of shoe for long distance training runs and events. They feel very 'stable' and reliable - not too high a sole for uneven terrain, yet enough cushioning to give comfort.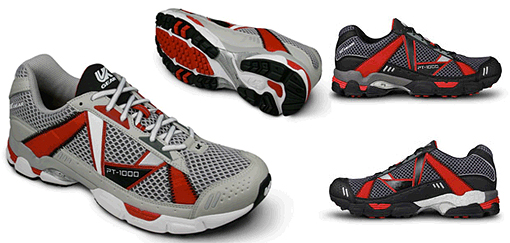 ---
---
---
---
---
---
---
---
---
---
---
---
---
---
---
---
---
---
---
---
---
---
---
---
---
---
---
---
---
---
---
---
---
---
---
---
---
---
---
---
---
---
---
---
---
---
---
---
---
---
---
---
---
---
---
---
---
---
---
---
---
---
---
---
---
---
---
---
---
---
---
---
---
---
---
---
---
---
---
---
---
---
---
---
---
---
---
---
---
---
---
---
---
---
---
---
---