...for the Military
UK Gear's training shoes were originally designed in association with the Royal Army Physical Training Corps (RAPTC). These elite fitness professionals were closely involved in the development and tested our products in some of the most inhospitable conditions on Earth. Only when approved by the Military do we consider our products... Built to survive.
Trail Running - Men's PT-1000 Review
>>19 August 2011
---

RUGGED TRAIL SHOES...

UK Gear PT-1000
This shoe is one that has been on long-term test with Trail Running. Agreed, there are tougher, meaner offerings out there, but if you're not going to tackle the toughest, meanest terrain, then you're going to be pretty satisfied with what's on offer here.
For a start, they are really impressive in the wear department; not much wear appears to have occurred on the out sole and we've put them through the odd test here and there! Of course that should be no surprise given the shoe has been developed with the British military and has been awarded the right to bear the British Army's armed crossed swords insignia. That alone should say something.

Along with a very solid, reliable build, what it does say, however, is that you're buying a shoe that can take on trail and road, both relatively comfortably – a jack of all trades if you like. Hardened speedy types will argue that there are better (in terms of flexibility, response and weight – not necessarily wear) road shoes on the market, and as we said there are better trail shoes – grippier, more protected. Army requirements we assume, are quite a bit different to someone looking for out and out pace and a personal best for 10k, but similar when it comes to protecting your feet from the harsh environment. Don't think these shoes are rigid, though. In fact they are acceptably flexible and responsive.
One thing for sure: they are not army boots...you can't use them as an excuse to slow the pace down, to say, marching speed. Look for a different excuse as these really do perform as you'd expect a trail running shoe to.
Verdict: A solid, faithful servant type of shoe.
source: Trail Running Magazine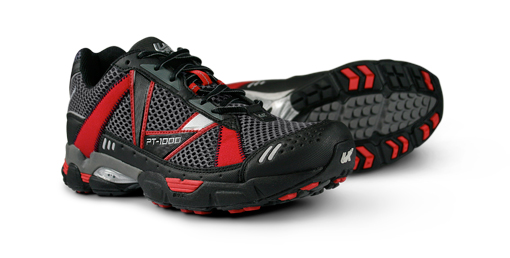 ---
---
---
---
---
---
---
---
---
---
---
---
---
---
---
---
---
---
---
---
---
---
---
---
---
---
---
---
---
---
---
---
---
---
---
---
---
---
---
---
---
---
---
---
---
---
---
---
---
---
---
---
---
---
---
---
---
---
---
---
---
---
---
---
---
---
---
---
---
---
---
---
---
---
---
---
---
---
---
---
---
---
---
---
---
---
---
---
---
---
---
---
---
---
---
---
---