...for the Military
UK Gear's training shoes were originally designed in association with the Royal Army Physical Training Corps (RAPTC). These elite fitness professionals were closely involved in the development and tested our products in some of the most inhospitable conditions on Earth. Only when approved by the Military do we consider our products... Built to survive.
Gear Guide - PT-1000 Review
>>25 July 2011
---


UK GEAR PT-1000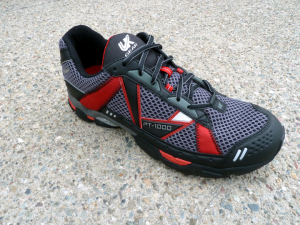 UK Gear has been around since 1993 but only recently entered the US market. The company develops its shoes in conjunction with The British Army's Physical Training Corps for "the most demanding conditions on Earth" according to UK Gear website. Their latest product – the PT-1000 SC – provides a perfect example of this design philosophy. It's designed to stand up to 1000 punishing road and trail miles.
I recently had the chance to try the PT-1000. Out of the box, the shoe's gray, black and red color scheme, construction and materials look ready to take a military-class beating.
Features
What do you expect from a shoe designed to go 1000 miles? Big, heavy, overbuilt? Well, the PT-1000 defies that approach with a surprisingly svelte design. The shoe just doesn't look or feel that much different than a regular running shoe – and that's a good thing in my book.
The upper is a combination of nylon mesh and synthetic leather. Underneath, the sole is covered with logos that identify key features of the shoe. NRG cushioning can be found in both the heal and forefoot. S+S identifies a rigid plastic plate located under the arch; it's this feature in particular that makes the PT-1000 a stability shoe. And back at the heal, UK Gear places its RhinoPad compound for additional wear in this high-impact area.
Specs
Weight: 28 oz. per pair
Forefoot height: 20mm
Heal height: 32mm
Construction: Nylon/synthetic leather upper, Dureva midsole, carbon rubber outsole

The PT-1000s run true to size so go with what typically works for you. The toe box provides plenty of room. And the lacing system and ankle run just slightly higher than is typical on a running shoe for additional stability and support. This makes for a more difficult entry than on most shoes.
Final Verdict
Nice shoe. The quality of construction and hard wearing sole are definite pluses. The shoe is stiff and offers lots of control, so if that's what you like, definitely give these a try. I never found that control overbearing, but it's definitely not your minimalist ride. Will it go 1000 miles? Unfortunately, I won't be able to truly test that claim, but the UK Gear PT-1000 is certainly one tough shoe.
First Impressions:

Features:

Fit:

Final Verdict:

---
---
---
---
---
---
---
---
---
---
---
---
---
---
---
---
---
---
---
---
---
---
---
---
---
---
---
---
---
---
---
---
---
---
---
---
---
---
---
---
---
---
---
---
---
---
---
---
---
---
---
---
---
---
---
---
---
---
---
---
---
---
---
---
---
---
---
---
---
---
---
---
---
---
---
---
---
---
---
---
---
---
---
---
---
---
---
---
---
---
---
---
---
---
---
---
---