...for the Military
UK Gear's training shoes were originally designed in association with the Royal Army Physical Training Corps (RAPTC). These elite fitness professionals were closely involved in the development and tested our products in some of the most inhospitable conditions on Earth. Only when approved by the Military do we consider our products... Built to survive.
Trail Running Soul - PT-1000, built to last...
>>24 March 2011
---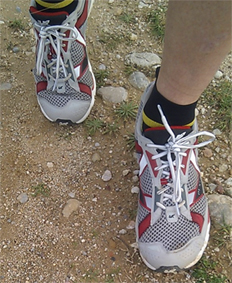 The world's first running shoe built to survive 1,000 miles. That's how UK Gear is marketing these trainers made to be taken both on- and off-road. These are some sort of a dual-purpose shoes in one model (hybrid if you want) recommended by the British Army and which I had the pleasure to test thanks to UK Gear.
Based in UK and with international offices in the USA and Australia, UK Gear is a business founded in 1993 with a close (and unique) relationship with the British Army Physical Training Corps. This means that the 450 instructors are not only wearing them, but they also work very closely with the company by testing them in some of the toughest places in the planet. So much so, that only after the army approval the development of their products is considered ready to become commercialized. And they are not only providers of the UK Arny, but also the US army (recruits), US Coast Guards and other emergency organizations. In UK Gear's CEO words 'trainers with military DNA'.
There are two different PT-1000 available: the Neutral Cushioning (NC) model, grey and red colored, and the Structured Cushioning (SC) a.k.a. with pronation control, black and red. The model that I've tested is the neutral one so my conclusions would apply to this model. Even so, most of the features are exactly the same on both models, so the results can be extrapolated to those with pronation control.
Given that you can read everywhere (could it be said, written by experts?) that running shoes should not be used beyond the 500 miles mark, I really appreciate the fact a manufacturer guaranties that their product will last double mileage of that of their competitors without loosing its quality or affecting your stride. This durability is obtained through Dureva, a proprietary material which, added to the midsole, will provide lasting cushioning and support (thanks to its molecular structure).
The PT-1000 wouldn't win a beauty contest, I have to say that. At first glance, without knowing what's underneath, one wouldn't spend too much on them given the discreet design (though not completely bad looking either) and some apparently not high tech materials. Nothing further from the truth. Although they look like your regular running shoes, there are many years of research and a lot of innovation in them. I won't list all the tech details, just take a look at the pic below.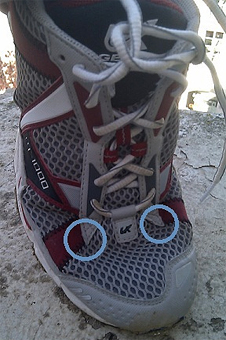 When put on for the first time, the word which immediately pops up in your mind is sturdy. Those are quite stiff shoes which might give you a false feeling of 'won't be able to run in these for too long'. But this feeling goes away after a few miles in them at an easy pace. The stiffness disappears when logging more and more miles (up to a certain point) and they do not become uncomfortable trainers. Keep in mind though that the PT-1000 have not that finesse in the fit which other brands manage to give to their product.
One problem that I did have with them is that I got a nice blister on each feet after the first runs. One of the fabric (or plastic, or rubber, not sure what it is) strips on the upper front part of the shoe is pointed and, given it's right on the point where the shoe bends when the foot pushes off, it puts pressure on the mesh and rubs against my toes (see photo). The result is a nuisance starting around mile 8-10 and a blister when going longer than 18-20 miles. But this is something which can get easily fixed just putting a bit of tape around the toes.
Even if you'd bet on the contrary, they are not very heavy. 12.3 oz is not bad given that its strength is durability and that is a feature which usually comes with heavier materials. But these are not racing shoes. It's not that you can't put them on in a fast mountain half marathon, but when you squeeze the most out of them is logging miles and miles throughout the season.
Truth is that I have not gone the whole 1000 miles magic number (Paul Bateson has done it) but the 150 miles I run in them indicate it's more than likely that you can go that far with the PT-1000. Wear, both on the outsole and the upper mesh, is practically non existent, even under the heel where I use to quickly wear the shoes off.
The PT-1000 are sold as hybrid running shoes, wearable both on and off-road. That's totally true. As any product placed in between categories I don't see myself running in them in extreme terrains. At least not technical or rough single track trails as they do not have the grip needed, specially on slippery, muddy surfaces. But you sure can run many miles on tarmac, then get on forest roads or trails and these shoes will be up to standard. For many many miles.
On paved roads, service roads or trails. To build up miles of training for your next ultramarathon. To put them on day in day out. To avoid having to buy a pair of road shoes and a pair of trainers, on top of the racing shoes you already have. To run in them knowing they are not the prettiest in the neighborhood but your strongest purchase. To feel your running shoes under your feet without caring for minimalist trends. If you are a runner in need of any (or all) of the above, the PT-1000 are made for you.
source: www.trailrunningsoul.com

---
---
---
---
---
---
---
---
---
---
---
---
---
---
---
---
---
---
---
---
---
---
---
---
---
---
---
---
---
---
---
---
---
---
---
---
---
---
---
---
---
---
---
---
---
---
---
---
---
---
---
---
---
---
---
---
---
---
---
---
---
---
---
---
---
---
---
---
---
---
---
---
---
---
---
---
---
---
---
---
---
---
---
---
---
---
---
---
---
---
---
---
---
---
---
---
---